Lockblock™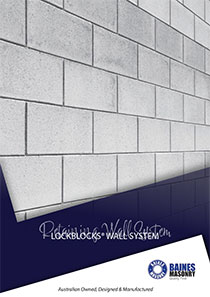 Lockblock™® is a thin bed jointed interlocking block alternative to the standard mortared concrete block. The self locating connectors make block laying easier and faster with no mortar to be mixed, just shell bed the blocks using 'SRW Adhesive' to form 2mm joints.
The Lockblock™® complies with the requirements of the B.C.A. and can be used anywhere conventional masonry is used, subject to the usual engineering standards.Lockblock™® can be reinforced to an engineers specification as required.
Lockblock™® is a faster, stronger alternative to standard masonry.


Download the fact sheets for more information:
Lockblock™® Brochure
Lockblock™® Case Study



SRW Adhesive
SRW Adhesive is a rapid-set polyurethane adhesive formulated to permanently bond concrete masonry block structures.
Fastest Set-Up Time on the Market with SRW Adhesive masonry adhesive instead of mortar and you'll save TIME & MONEY.
BENEFITS
Fastest set-up time on the market!
High temperature adhesive suitable for firepits
For use on dry or damp surfaces
Premium, long lasting strength
Interior/exterior use
Specially formulated for use on construction and landscape projects
For full instructions refer to SRW Adhesive brochure and Instruction Guide